Podcast: Play in new window
Listen and download the Main Street Vegan Podcast on Unity Online Radio, or listen and subscribe on Stitcher or  Apple Podcasts.
Throughout February, we've been looking at themes of love. Today, it's love of animals. My stunning guests are authors and activists making real difference in the world.
In the first segment, I speak with Kathryn Gillespie, PhD, geographer and social scientist whose book, The Cow with Ear Rage #1389, "translates the journey from a living cow to a glass of milk into tangible terms."
Book: The Cow with Ear Tag #1389 
Website: https://KathrynAGillespie.com
Twitter: GillespieKatA
Instagram: KatAGillespie
In segment two, I welcome back to the program a true activist's activist, Mark Hawthorne, whose classic, Striking at the Roots: A Practical Guide to Animal Activism, has been revised, expanded, updated, and re-released in a 10th anniversary edition including, for the first time, a powerful and practical chapter called, "Animal Care: Activists Are Animals Too."
Book: Striking at the Roots: A Practical Guide to Animal Activism
Website: https://markhawthorne.com
Twitter: @MarkHawthorne
Instagram: MarkHawthorneAuthor
Blast from the past! If you're interested in dairy and dairy cows, another insightful book on that subject is Cash Cow: 10 Myths About the Dairy Industry. She appeared on the show back in 2016: https://mainstreetvegan.net/msv-show-notes-feb-17-2016-harlem-soul-dairy-less-in-montreal/.
A shoutout to our sponsor, Complement. Developed by vegan dietitian Dr. Pamela Fergusson, and the NoMeat Athlete, Matt Frazier, Complement enables you to get your vitamin B12, vitamin D3, and the essential Omega 3 fatty acids (DHA & EPA) in a totally vegan form that you just spray into your mouth once a day and know that your already great diet now has the full complement of essential nutrients. Click here for more info and to order. Use the code MAINSTREETVEGAN for a 10% discount.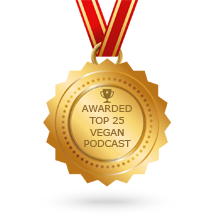 Main Street Vegan Podcast wins Top 25 Vegan Podcasts on the web award. Click here to learn more.