Podcast: Play in new window
Listen and download the Main Street Vegan Podcast on Unity Online Radio, or listen and subscribe on Stitcher or  Apple Podcasts.
Cookbook author & food photographer Jackie Sobon is the upbeat voice of the popular blog, VeganYackAttack.com, & Robin Abel makes Midwestern comfort food vibrantly vegan in her many bestselling cookbooks.
Jackie Sobon is the powerhouse behind the successful food blog, Vegan Yack Attack, founded in 2011, which is filled with hundreds of delicious recipes and gorgeous food photos. Her first book, Vegan Bowl Attack!, was published in 2016, with her new book, Vegan Yack Attack On the Go!, now available! She is also the Sweet Treats columnist for VegNews Magazine, and has photographed over 10 cookbooks.
Website:  veganyackattack.com
Facebook: facebook.com/VeganYackAttack
Twitter: twitter.com/veganyackattack
Instagram: instagram.com/veganyackattack
YouTube: youtube.com/user/VeganYackAttack
Robin Asbell is a chef, educator and author who is dedicated to whole foods, and has a talent for making healthy food delicious. She is the author of 11 cookbooks, most recently Plant Based Meats; Hearty, High Protein Recipes for Vegans, Flexitarians and Curious Carnivores (Countryman Press) and Vegan Meal Prep; A 5-Week Plan with 125 Ready-to-Go Recipes ( Robert Rose). You might even own a copy of Big Vegan, or Sweet and Easy Vegan, both from Chronicle Books.
Asbell teaches popular classes and speaks to groups around the US and in Mexico. She brings many years of professional cooking experience and her abiding love of satisfying flavors to all her cooking classes, garnished with a sense of humor and fun.
Asbell has written for Experience Life Magazine, Yoga Journal, Fine Cooking, Better Homes and Gardens, Real Food Magazine, Clean Eating Magazine, VegNews, Vegetarian Times, Mother Earth News, and other magazines, and writes regularly for strongertogether.coop. She is a Culinary Advisor for the Whole Grains Council and a member of the Grains for Health Initiative. The Minneapolis Star Tribune named her one of their Taste 50, a list of the most influential women in food in 2015. Her blog (robinasbell.com/robinwrites) focuses on great plant based food as well as food issues, and her website robinasbell.com lists her classes and upcoming TV and public appearances, as well as an extensive recipe archive.
Website:  robinasbell.com
Facebook: facebook.com/robinasbellauthor.
Twitter: twitter.com/robinasbell
Instagram: instagram.com/robinasbell
Blast from the past! ~ If food lights you up, check out this episode from 2013, when we spoke for the first time with cookbook author, performer, and PBS cooking show host Laura Theodore, the Jazzy Vegetarian.

A shoutout to our sponsor, Complement. Developed by vegan dietitian Dr. Pamela Fergusson, and the NoMeat Athlete, Matt Frazier, Complement enables you to get your vitamin B12, vitamin D3, and the essential Omega 3 fatty acids (DHA & EPA) in a totally vegan form that you just spray into your mouth once a day and know that your already great diet now has the full complement of essential nutrients. Click here for more info and to order. Use the code MAINSTREETVEGAN for a 10% discount.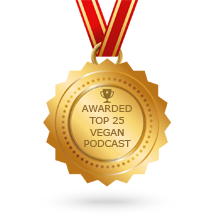 Main Street Vegan Podcast wins Top 25 Vegan Podcasts on the web award. Click here to learn more.