Podcast: Play in new window
Listen and download the Main Street Vegan Podcast on Unity Online Radio, or listen and subscribe on Stitcher or Apple Podcasts.
We opened up our show introducing the NYC premiere to our film, A Prayer for Compassion, happening on Tuesday March 5th, 2019. Get your tickets now
Two of the forward-thinking women behind today's hottest vegan magazine for moms and dads, Emily and Claire, riff on what it's like to raise little vegans in 2019.
Emily Wood is the CEO of Raise Vegan Inc., joining her is Claire Chartrand the Editor in Chief of Raise Vegan Magazine. Raise Vegan is a vegan, women-owned company based in New York. Their network is the largest community of vegan parents in the world, and the magazine "Raise Vegan" is on shelves across the United States as well as printed in monthly editions and mailed worldwide to subscribers.
Website: raisevegan.com
Facebook: @veganpregnancyandparenting
Instagram: @raisevegan and @veganpregnancyandparenting
Twitter: @raisevegan
Blast from the past! ~ Chloe Jo Davis is a powerhouse — the fashionista behind the super-popular blog, Girlie Girl Army, went full in as a parent and is raising her three adorable boys vegan (of course) and via the principles of attachment parenting, being there for child no matter what. Hear her inspiring parenting philosophy on this episode from 2013.

A shoutout to our sponsor, Complement. Developed by vegan dietitian Dr. Pamela Fergusson, and the NoMeat Athlete, Matt Frazier, Complement enables you to get your vitamin B12, vitamin D3, and the essential Omega 3 fatty acids (DHA & EPA) in a totally vegan form that you just spray into your mouth once a day and know that your already great diet now has the full complement of essential nutrients. Click here for more info and to order. Use the code MAINSTREETVEGAN+ for a 10% discount.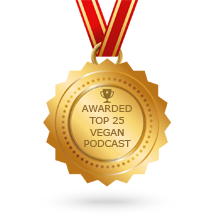 Main Street Vegan Podcast wins Top 25 Vegan Podcasts on the web award. Click here to learn more.