Podcast: Play in new window
Listen and download the Main Street Vegan Podcast on Unity Online Radio, or listen and subscribe on Stitcher or  Apple Podcasts.
In addition to being married to Titanic and Game Changers director James Cameron, Suzy Cameron is a force in her own right, having started one of the nation's first vegan elementary schools, MUSE, and spearheading the One Meal a Day campaign, to get large numbers of omnivores to eat one vegan meal daily to help save the planet. In our second segment, we welcome back the lovely actress, Evanna Lynch (she was Luna Lovegood in the Harry Potter films and a recent Dancing with the Stars finalist) joins us to let us know about her vegan boxes, and to announce the super-exciting international campaign launching today.
Suzy is an environmental advocate, former actor and model, and mother of five. She founded MUSE School with her sister, Rebecca Amis, which is the first school in the country to have a plant-based lunch program. Suzy also founded Red Carpet Green Dress, and with her husband, James Cameron, Suzy founded Plant Power Task Force, Cameron Family Farms, and Food Forest Organics.
Website:  https://omdfortheplanet.com/
Facebook: https://www.facebook.com/OMD4thePlanet
Twitter: https://twitter.com/suzymusing
Instagram: https://www.instagram.com/SuzyAmisCameron
YouTube: https://www.youtube.com/channel/UCKOHg5kcsyJsSw4mgz6RcyQ
Evanna Lynch is an actress, vegan activist and co-founder of Kinder Beauty. She is also a spokesperson for Million Dollar Vegan. MDV is a non-profit campaign seeking to effect global change by highlighting the damage caused to animals, people and our planet by animal farming. This year, Million Dollar Vegan are inviting Pope Francis to commit to going vegan for Lent and are offering $1 million dollars to a charity of his choice should he accept the invitation.
Website:  https://kinderbeauty.com
Facebook: https://www.facebook.com/KinderBeautyBox/.
Twitter: https://twitter.com/kinderbeautybox
Instagram: https://www.instagram.com/kinderbeautybox
Million Dollar Vegan Campaign
Facebook: https://www.facebook.com/milliondollarvegan.
Twitter: https://twitter.com/1mdollarvegan
Instagram: https://www.instagram.com/milliondollarvegan
Blast from the past! ~ Evanna Lynch announced for us that this is the super-exciting launch day for Million Dollar Vegan, the campaign that is challenging Pope Francis to go vegan for Lent, and if he does, MDV will donate $1 million to the charity of his choice. The spokesperson for Million Dollar Vegan is everybody's favorite kid, Genesis Butler, who appeared on the program in 2016: https://www.unityonlineradio.org/main-street-vegan/tv-chef-jason-wrobel-and-9-year-old-activist. For more on the Million Dollar Vegan campaign, check out the website: https://linktr.ee/milliondollarvegan

A shoutout to our sponsor, Complement. Developed by vegan dietitian Dr. Pamela Fergusson, and the NoMeat Athlete, Matt Frazier, Complement enables you to get your vitamin B12, vitamin D3, and the essential Omega 3 fatty acids (DHA & EPA) in a totally vegan form that you just spray into your mouth once a day and know that your already great diet now has the full complement of essential nutrients. Click here for more info and to order. Use the code MAINSTREETVEGAN for a 10% discount.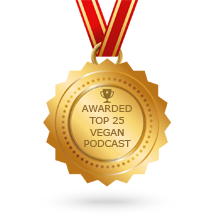 Main Street Vegan Podcast wins Top 25 Vegan Podcasts on the web award. Click here to learn more.