Podcast: Play in new window
In my book, 
Creating a Charmed Life
, I have a little essay called "Retire Your Tutu." It's about putting to rest the "I'm too uneducated," "I'm too lacking in funds," and especially "I'm too young" or "I'm too old." Today's guests span the range of ages for vegan activism. Out first guest is an active athlete and author at age 84; our second is an animal rights and environmental activist of age 12. She wants to be President. If you're thinking of who you might want to vote for in 2050, put her on your list of candidates to consider….
Ruth Heidrich, PhD, is breast cancer survivor, marathon runner, and IronMan triathletec. After being diagnosed with stage 4 breast cancer, with the help of Dr. John Mcdougall, Ruth denied chemo, radiation, and hormone therapy for the natural healing of a vegan diet. In addition to entering recovery, she has since added biking and swimming to her love of fitness.
Genesis Butler is a 12 year old animal rights activist, vegan, and now a large part of the Million Dollar Vegan Campaign: an environmental campaign asking Pope Francis to go vegan for lent in exchange for a 1 million dollar contribution to any charity of his choice. Genesis has previously been invited to be a TEDx speaker at the age of 10, was featured in The Vegan Movie, and continues to advocate for animals through speaking engagements, social media, and her own foundation called Genesis for Animals.
Blast from the past! ~ 
Hear Genesis Butler speak about her feature in the documentary Vegan Everyday Stories 
in 2016, and
Ruth
share more about being an octogenarian runner, swimmer, cyclist, and three-decade breast cancer survivor.
A shoutout to our sponsor, Complement. Developed by vegan dietitian Dr. Pamela Fergusson, and the NoMeat Athlete, Matt Frazier, Complement enables you to get your vitamin B12, vitamin D3, and the essential Omega 3 fatty acids (DHA & EPA) in a totally vegan form that you just spray into your mouth once a day and know that your already great diet now has the full complement of essential nutrients. Click here for more info and to order. Use the code MAINSTREETVEGAN for a 10% discount.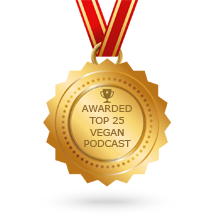 Main Street Vegan Podcast wins Top 25 Vegan Podcasts on the web award. Click here to learn more.