Podcast: Play in new window
Listen and download the Main Street Vegan Podcast on Unity Online Radio, or listen and subscribe on Stitcher or  Apple Podcasts.
Joshua Katcher is a vegan fashion designer, activist, educator, founder of Brave Gentleman menswear, and now the author of Fashion Animals. Katcher has taught courses on sustainable, ethical fashion at Parsons the New School for Design and LIM college. Brave Gentleman has been featured in GQ magazine, and written about in articles by Forbes, and COMPLEX magazine for it's luxury quality and ethical mission.
Joshua Katcher's new book, Future Animals examines the history of animals in the fashion industry – a "history of staggering, global impacts on animals and the environment, from extinctions to massive industrial confinement and killing." The critical text argues that animals do not belong in the fashion equation, and instead proposes a future towards an industry that replaces the use of animals altogether, alongside a beautiful illustrative narrative.
Website: https://www.bravegentleman.com/
Facebook: https://www.facebook.com/BraveGentleManOfficial/
Instagram: https://www.instagram.com/thediscerningbrute/ and https://www.instagram.com/brave_gentleman/
Twitter: https://twitter.com/DiscerningBrute and https://twitter.com/Brave_GentleMan
Blast from the past! ~ Hear our conversation with Joshua, back in 2015 when we discussed aesthetics, animal use, and alternatives on our episode titled "Animals, Fashion, and the Compassionate Male."
A shoutout to our sponsor, Complement. Developed by vegan dietitian Dr. Pamela Fergusson, and the NoMeat Athlete, Matt Frazier, Complement enables you to get your vitamin B12, vitamin D3, and the essential Omega 3 fatty acids (DHA & EPA) in a totally vegan form that you just spray into your mouth once a day and know that your already great diet now has the full complement of essential nutrients. Click here for more info and to order. Use the code MAINSTREETVEGAN for a 10% discount.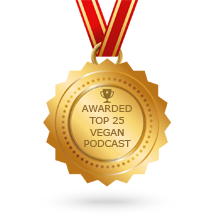 Main Street Vegan Podcast wins Top 25 Vegan Podcasts on the web award. Click here to learn more.