Podcast: Play in new window
Listen and download the Main Street Vegan Podcast on Unity Online Radio, or listen and subscribe on Stitcher or  Apple Podcasts.
James Aspey is an Australian animal rights activist and lecturer best known for maintaining a year of silence to "raise awareness for animals and promote peace over violence." After overcoming a past of drugs, cancer, and bulimia through meditation and karmic reflection, he made the switch to veganism by then considering the compassion on his plate. Today, his number one goal in life is to educate, encourage, and inspire others.
Website: http://www.jamesaspey.com.au
Facebook: https://www.facebook.com/jamesaspeyactivism/
Instagram: https://www.instagram.com/jamesaspey/
Laura Callan is a writer, speaker, and Founder/Editor of Bright Zine. The vegan lifestyle magazine expands the conversation of living an ethical lifestyle to topics of culture and community. From the recycled paper their issues are printed on to the biodegradable apparel packaging they use, Bright Zine "aims to create conversations around vegan and ethical lifestyle topics, spreading awareness and compassion."
Website: https://lauracallan.carrd.co
Bright Zine: https://www.brightzine.co
Facebook: https://www.facebook.com/lauracallan.vq
Instagram: https://www.instagram.com/lauralollipop/
Twitter: https://twitter.com/lauracallan
Blast from the past! ~ Learn more vegan business and entrepreneurship tips + tricks directly from Editors of VegNews, Vegan Health and Fitness, and Laika Magazines, who we spoke to back in 2013: Listen 
A shoutout to our sponsor, Complement. Developed by vegan dietitian Dr. Pamela Fergusson, and the NoMeat Athlete, Matt Frazier, Complement enables you to get your vitamin B12, vitamin D3, and the essential Omega 3 fatty acids (DHA & EPA) in a totally vegan form that you just spray into your mouth once a day and know that your already great diet now has the full complement of essential nutrients. Click here for more info and to order. Use the code MAINSTREETVEGAN for a 10% discount.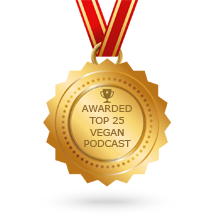 Main Street Vegan Podcast wins Top 25 Vegan Podcasts on the web award. Click here to learn more.